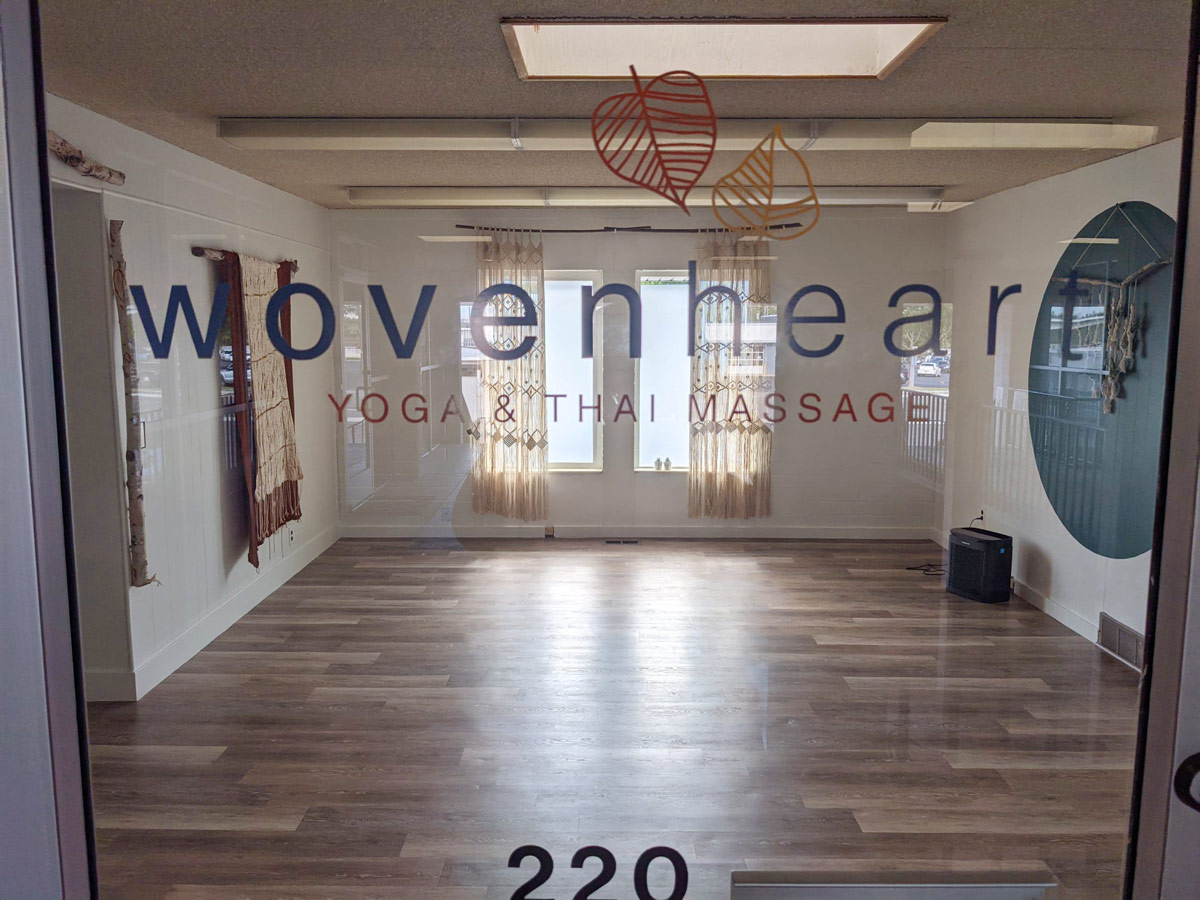 Woven Heart Yoga & Thai Massage
3333 S 900 E, Suite 220
Millcreek, UT 84106
(Southeast corner of 900 E and 3300 S)
Contact Us
|
Book Now
Parking Available:
Woven Heart is located near the SE corner of 3300 South and 900 East. Enter the parking lot from 900 East, just south of Salazar's Cafe. We are located inside the white office building that says 3300 Coordinated Interiors. Come upstairs to Suite 220. There is plenty of parking, just be sure not to park in the strip of spots reserved for Salazar's up front when they are open.
Covid Policy
COVID-19 Policy: We require proof of vaccination from all students and clients. Please bring your card with you or a smart phone with access to the "docket" app, which is connected to the Utah Department of Health immunization records. All Woven Heart staff are fully vaccinated. We understand that this may exclude some folks from participating in our classes and we apologize for that. At this moment we understand this is the best solution to gather safely and to minimize the spread of the virus within and outside of the studio. We appreciate you and look forward to a day when we can again get together regardless of vaccination status.

Masks at the moment are recommended, but optional at this time. We use HEPA air filter continuously running, keep class sizes small, and follow all infection-control protocols for massage therapy. We are following the current CDC recommendations and will continue to watch the case numbers for our areas and make changes to this policy as needed. Please be kind as we try to stay safe.
Yoga Pricing
Class Passes
10 Class Pass
$180.00
($18 per class)
Expires 90 days (3 months) after purchase.
20 Class Pass
$320.00
($16 per class)
Expires 6 months after purchase.
5 Class Pass
$95.00
($19 per class)
Expires 60 days after purchase.
Private Yoga Classes
Private Yoga Instruction
1 hour $60.00
90 minutes $85.00

AcroYoga Instruction
(up to 3 students)
1 hour $60.00
90 minutes $85.00
2 hours $110.00

Handstand Training
1 hour $60.00

Massage Pricing
Traditional Thai Massage
1 hour 30 minutes @ $118.00
2 hours @ $145.00

Traditional Thai Massage combines the traditions of acupressure, deep muscle compression, assisted stretching, rocking/swaying, and meditative breath. It is the ancient healing art of Thailand, and the Northern style, Nuad Boran, is deeply rooted in the lineages of Yoga, Ayurveda and Buddhism. Pressure is focused along Sip Sen or Thai energy lines.
Deep Tissue Table Massage
1 hour @ $85.00
1 hour 30 minutes @ $118.00
2 hours @ $145.00

Deep Tissue Table Massage may include elements of Swedish massage, deep tissue techniques and trigger point therapy. Methods and intensity determined according to the therapist's evaluation of your personal needs at the time of treatment. Slow, firm pressure is used to alleviate muscle tension and promote deep relaxation. An all-natural, non-greasy massage cream is used.